Top 10 Things To Do in Corfu
Top 10 Things To Do in Corfu You Don't Want to Miss!
1. Renting a Boat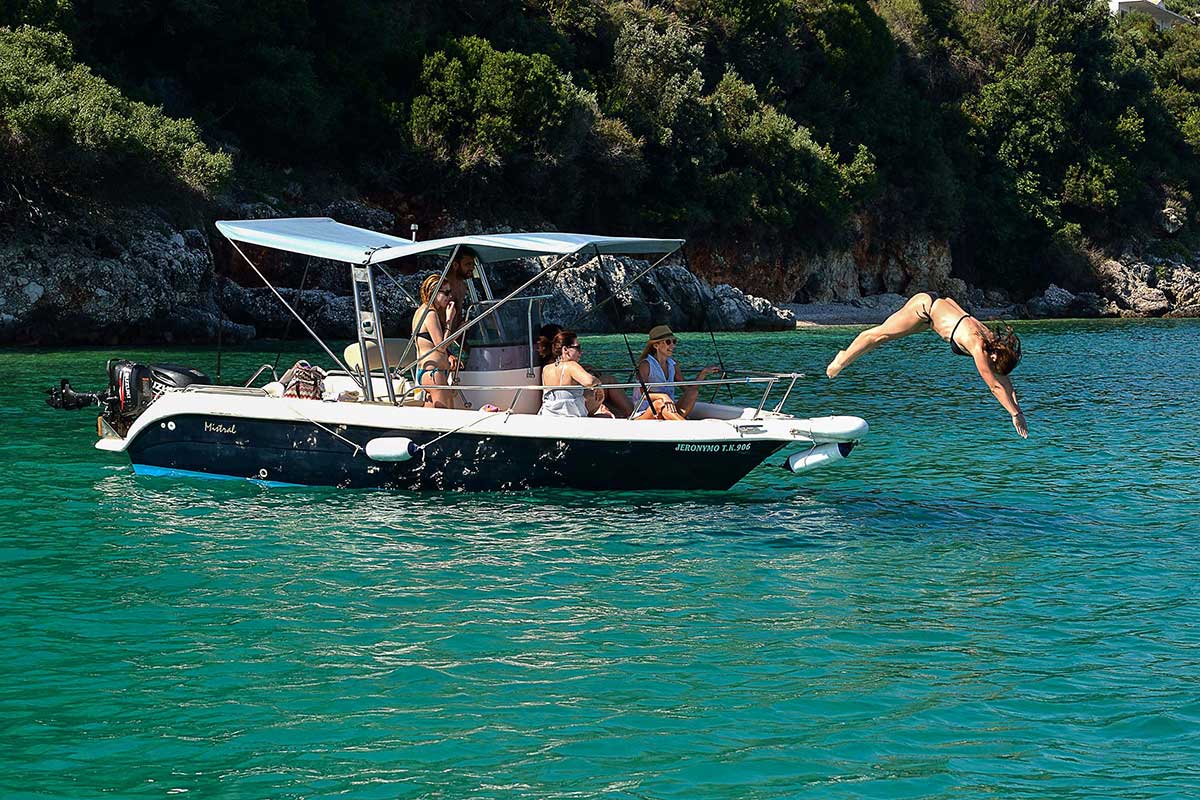 Did you know that on many of the islands in Greece, you can hire a boat yourself or a Sailing Yacht with a Skipper and rip around the coastline? Even if you don't have a boat license?! If you're looking for things to do in Corfu that are unique and fun, renting a boat is definitely it.Whizzing along the beautiful coastline, stopping off at seaside taverns for food and drinks, and mooring up at secret coves to jump in the Ionian Sea, how fun is that?!Hiring a car is a must for getting around the island and seeing the interior, but hiring a boat is an excellent way to explore the coastline. This is definitely one of the best things to do in Corfu.
You need to pay €80 for the boat in the offseason / shoulder season (would be €120 in the high season)
Boat gas for a day of driving cost us €40.
2. Rent a Sailing a Yacht for a Daily Cruise
Sailing is the perfect way to connect with nature while you travel. You learn to read the elements, interpreting the sign that nature gives you and acting accordingly – sailing can be a contemplative experience or a wild ride, or both, depending on what Nature has in store that day.
If you're planning a sailing expedition, don't forget to take the winds and seasons into account – being stuck on a sailboat with strong waves and heavy winds is definitely not fun, especially if it's your first experience.
But the trip there will take rather longer than these scant distances suggest, especially from Kérkyra Town's New Port. Accordingly, excursions beginning from Benítses or Moraïtika/Mesongí on the east coast or Agios Geórgios Argyrádon in southwestern Corfu are growing in popularity, with proportionally less time at sea and more on and around the islets.
Cruises starting from Benítses will stay out a bit longer and cost roughly the same. Trips from Kérkyra Town New Port leave at 9am, get back at 7pm, and cost start from about €55 per head minimum, plus supplements for coach transfers.
3.Sea kayaking and  Snorkeling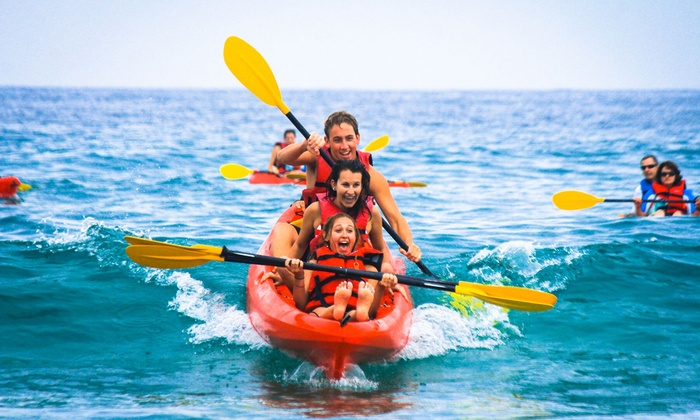 You will be provided all the necessary equipment for sea kayaking and snorkeling-  wetsuit (if needed), mask, snorkel, fins. The colourful sea bed is unique and rich in marine creatures! Snorkeling is the perfect activity to explore the underwater world in total freedom – you just need a mask and snorkel, and you're ready to go. There's no need to rent bulky and expensive equipment and get certified, making it the ideal activity for the whole family.
4.Scuba-diving
Corfu has a reputation for being one of the better scuba venues in Greece. The best dive sites are around Paleokastrítsa, Othoní or Paxí islets and the northeast coast, with visibility on good days in the 25–30-metre range; the sea lapping the island's eastern shoreline is relatively murky and thus little explored. Water temperatures reach a maximum of 24° in summer, but can plunge abruptly to 16° owing to numerous fresh-water seeps; reputable dive centres provide hood and booties as standard practice.
5.Tandem  Paragliding  flight  in corfu
Discover the beautiful island of Corfu and its hidden gems from above on this fun and exciting tandem paragliding flight! Meet your guide in the main square of Pelekas, from where he will take you the take off point. After a short introduction, you will find yourself flying high above the ground! You can choose between two spots: Glyfada or Kontogialos. Talk about it with your instructor after booking in order to make the best choice! From € 110/ person
6.Horse Riding
Horse riding through the mountains with a beautiful view of  Corfu. Pleasant ride into the forest accompanied by an expert instructor. Explore the fascinating world of long and safe rides.
We also offer our little friends a great experience while riding horses. Book a horse trek through the lush foothills outside Áno Korakiána village, also in Gouvia and Avlaki and Paleokastritsa. In season, rides (groups limited to 8)  take place daily Mon-Sat along shaded tracks from 10am to noon and 5 to 7pm; winter by arrangement, most likely Thursday and Saturday.
Prices
7.Day Boat trips

The most worthwhile, obvious day trips go to Ágii Saránda (Sarandë) in Albania for the spectacular nearby Roman ruins of Butrint, to Eríkousa – one of the three inhabited Diapóndia islets just north-west of Corfu – or to Paxí and Andípaxi, two small Ionian islands southeast of Corfu.Budget €75-100 (about £66-88) for the day, including coach transfers, lunch and boat fare, depending on how many attractions you cram into the schedule. More expensive tours visit the showcase village of Gjirokaster (Argyrokastro), some ways inland.Caique passage to Eríkoussa is most easily arranged in the north-westerly port resorts of Ágios Stéfanos or Sidári; Budget €17/£15 typical return fare, out at 10am, returning from the islet at 3pm; some days the boat starts from Ágios Stéfanos Gýrou at 9am. From Sidári, it's just under an hour in calm seas to Eríkoussa, with dolphins often sighted en route; on the return trip photo ops are given opposite the more outrageous Sidári rock formations.
8. Rent a Car or Jeep

We are the most economy and reliable company for rent a car in Corfu. In our Online Car Rental we offer premium & cheap car hire at Corfu Airport. Our premium services for Corfu Car Hire include rent a car in Corfu only with new cars and many free amenities. Our prices also include Free Pick Up and Drop off in Corfu Airport. Corfu Airport Car Hire by Go Car, the reliable Corfu car rental company.
Compare Companies for the Best Rates
Free Cancellation 48hrs before Pick up
No Credit Card Fees
Available 7 Days a Week
20,000 Pick-up Locations Worldwide
9. Going On An Olive Oil Tasting & Tour
There are over 4 million olive trees on Corfu Island, 95% of which are lianolia variety. There are a few products that Greek people have been using throughout the ages, olive oil is one of them. It has always been a big part of their diet, traditions and history.Olive groves provide jobs and food for the people, and have for many years. Learning about the production of olive oil is one of the most important things to do in Corfu, and Greece as a whole.The flavour is exceptional and the health benefits are incredible!
Tours cost €30 / person including olive grove and mill tour, and an olive oil tasting and seminar.
10. Mountain Biking Tour Around Corfu
A scenic and exhilarating descent down Corfu's tallest peak – crossing ancient villages and cliffside vistas.
Ready for adventure! The Mountain Tour takes advantage of Corfu's towering and beautiful Mt. Pandokratoras (1,000m+) which over shadows Corfu's North-East coast. The tour starts atop the ancient Monastery of Pandorkrator and explores a huge range of tracks, trails, fire breaks, goat paths and paved roads, not to mention some of the most breath taking views one could ever imagine, including Grava cave.
Additionally, there are ancient ruins, olive groves, historical sites and the 14th century village of Old Perithea (Heritage Site), for rest and refreshments. Transport is provided by S-Bikes, to the top of the mountain. Some mountain biking experience and a good fitness level is necessary for this tour. Based on group size and experience, the tour can be altered to fit the customer's desired skill level. Please contact us with questions.
Skill Level: Challenging & Advance
Price: 65€ Per Person
Start Location:  Acharavi, Corfu / 9:00am
Group Size: 4-12 People
Duration: 4-6 hours / Starting at 9am
12 Most Popular Sightseeings in Corfu
,
blog
,
corfu
,
Greek sailors
,
hotel
,
news
,
Popular Sightseeings
,
sailing
,
sailing news
,
sailors
,
Sightseeings
,
Sightseeings Corfu
,
travel